Lawn Care, Landscaping
& Tree Service
Anthony's Lawn Care, Tree Removal, and Landscaping is the only company in Bloomington and surrounding cities that is an all-in-one destination for full service lawn care, landscaping, hardscaping, tree removal, and tree trimming with a team of 30+ dedicated experts ready to serve you with a 100% satisfaction guarantee. 
Family Owned and Serving Bloomington, IN & Surrounding Areas Since 2011.
Schedule Your FREE Estimate
Fast & Friendly Service Guaranteed
Bloomington's Full Service Tree Removal, Tree Trimming, Landscaping, and
Lawn Care Professionals
Anthony's Lawn Care & Landscaping has been serving Bloomington and beyond for 12 years and focuses on tree removal, tree trimming, lawn care, and landscaping services in Bloomington, Indiana.
When it comes to Professional Tree Services, we also own Anthony's Tree Removal with a team of professionals who specialize in tree removal, tree trimming, and stump grinding while always adhering to the ANSI A-300 Pruning Standards. 
We are a trusted provider with an award winning team of professionals who pride ourselves on great service and transparent pricing.
We have even won Best Lawn Care, Landscaping, and Tree Service in all of Bloomington for Five Years in a Row!!! 
In 2023, we won Best Customer Service in All of Bloomington!!!
We proudly provide Mowing, Landscaping Services, Professional Tree Removal, Gutter Cleaning, Leaf Removal, Mulching, Spring Clean Up & Snow Removal. 
Our main goal is to provide the residents of Bloomington an incredible environment to live in while providing professional, efficient, and trustworthy services at reasonable prices.
We offer free estimates, easy communication, and give fast and friendly service, guaranteed!
Contact us for more information about what we can do for you!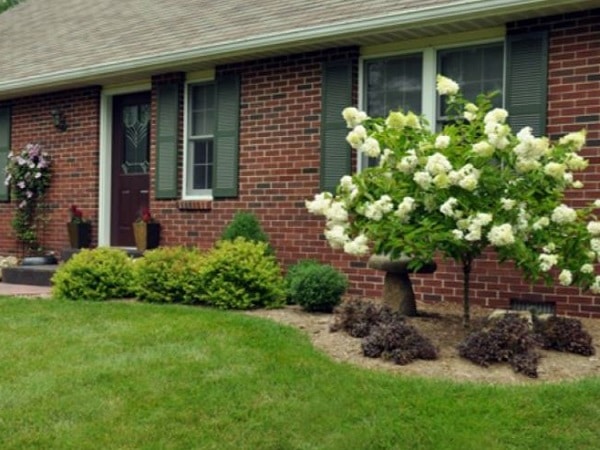 Lawn Care
Mowing your own lawn takes time and equipment. We specialize in fairly priced mowing plans to fit almost any space. We have quality equipment like zero turn mowers, can manage hilly terrain, and handle the details like edging and cleanup.
Landscaping
If you have a space or lawn that is in need of a vision and a plan, we can help. We help lay out beds, choose plants, and give you a space you can enjoy and be proud of. We offer a variety of landscaping services to help reshape your landscape.
Tree Service
Tree removal and tree trimming are what sets us apart in the area. We are certified to professionally and safely remove trees and make sure they are properly maintained. We have the right equipment and our guys are the best in the business.
Snow Removal
Snow removal is key, and can be a challenge without proper equipment. Our team can come out and clean your driveways, walkways and patios of snow and ice so you can get back to enjoying your outdoor spaces safely avoid slips and falls.
Anthony's Lawn & Landscaping is proud to have been awarded the Herald Times Readers' #1 Choice Award for Best Lawn Care, Landscaping, and Tree Company in Bloomington 4 years in a row, as well as the #1 Top Rated Local lawn care businesses in Indiana.
Schedule Now
Call or text us on 812-345-5694 or fill out our form for a FREE estimate on your landscaping and lawn needs. Fast, friendly service GUARANTEED.
"Anthonys Lawncare and Landscaping was excellent. Prices are very reasonable. They were fast and prompt. They had knowledge and expierence about everything I needed done. They actually even worked in the rain. Im definitely rating 5 stars. Good job guys!"
It's so easy to get started – fill out the form to schedule your free estimate at a time that's convenient for you, or just call or text us at 812-345-5694.
Reshape Your Landscape ©
Fast & friendly service, guaranteed! Fully Insured. Voted Best Landscaping Company in Bloomington 2019. Anthony's Lawn Care & Landscaping can transform your landscape – contact us for a FREE estimate today.
Need Emergency Service?
We will come to help remove fallen trees in you have an emergency from a storm or other event.
Ultimate Tree Removal Package
Enjoy a discount when you sign up for all the following services!
– Shrub Trimming Included
– Weed Removal from Beds
– Free Tree & Landscape Analysis
– 10% off Tree Trimming or Tree Removal
– Prompt, Polite, Professional Service
– 100% Satisfaction Guarantee
Stump Grinding Services
Do you have a stump on your property in need of grinding? Get an accurate and instant quote for stump grinding in Bloomington today. Wondering how much does stump grinding cost? Use our stump grinding calculator to get a free quote now.
Football, food, and family — what's not to like about Thanksgiving? I find it
an exceptionally cozy and mellow holiday since we usually stay home and
celebrate with our little household unit. Nichole works hard to make us a
nice dinner, and I do my part to help, then we hang out with a game on in
the background and simply enjoy the food and each other's company.
read more